The PopCulteer
August 21, 2009
Turning Out The Light
This is no revelation. I've already outed myself here in PopCult. I've been watching the soap opera, Guiding Light, for thirty years. On September 18, the final episode of GL, the longest-running show in broadcast history, will air on CBS. It looks like there will be no reprieve. No announcement has been made about moving the show to another broadcast or cable network, and production ended last week.
Guiding Light began as "The Guiding Light," a fifteen-minute daily soap on the CBS radio network 72 years ago. It jumped to television in the early 1950s (co-existing on both radio and TV for a short time). The show expanded to half an hour, then later to a full hour, and it always stood head and shoulders above the other soaps on the air. Along the way, they dropped the "The."

There are tons of name actors who appeared on the show early in their careers, like Kevin Bacon (right), Taye Diggs, James Earl Jones, Cicily Tyson, Cynthia Watros, Hayden Panettiere, Britney Snow, Alison Janney, Rachel Minor, Annabelle Gurwich and way too many others to mention.
Guiding Light also attracted some top talents who were already well-established. Joan Collins stepped in to play an established character a few years ago. The late Broadway star (and wife of Dick Cavett) Carrie Nye (left), signed on to play a mysterious character during a memorable story arc a few years ago.
One of the most surreal moments in
daytime television was when quirky new Wave group, The B-52s (right) showed up for a few episodes in 1981, long before they had their first mainstream pop hit with "Love Shack."
This show has been a part of my life for three decades. It was like a mental lunch break, a pause in the middle of the day (or later, if I recorded it) to follow the adventures of families like the Spauldings, The Lewises, The Bauers and The Coopers. The show certainly had some odd moments over the years. Writers come and go, and some of them have rocky transitions. Occasionally storylines were dictated by outside circumstance, like the sudden departure (or death or pregnancy) of an actor, and sometimes weird crap just happened.
Through it all, Guiding Light managed to carry on with a class and dignity that seemed to escape the other soap operas. They still conformed to the conventions of the genre: cheesy melodrama, implausible paternities, rapid-aging syndrome (children are shipped off to boarding school for a few months, then return as full-grown adults), but they seemed to just do it better than the other soaps.
The writing was better, the acting was always top-notch, and in recent years the directing and production style on Guiding Light was revolutionized and is on par with, or better than, most night-time dramas. Other soaps never quite worked for me. General Hospital was too campy, cheesy and glitzy. Days Of Our Lives was boring. The only soap that transcended the inherent cheesiness of the genre for me was Guiding Light.
Even when they'd delve into really bizarre storylines like cloning, time-travel, espionage or super powers (below) , the cast of the show managed to make the material believable. The show was not immune to dropping the ball on occasion–killing off popular characters for no reason sometimes, going off on tedious tangents other times, but the show was always enjoyable. At least it kept me watching since 1979.
A few years ago a veteran soap producer who had been out of the business for more than a decade, John Conboy, was brought in to helm the show, and under his watch the quality of the production skyrocketed. Suddenly the show was lit like a major motion picture. Storylines were tightened, and key elements of the mythology were established, inserting historical ties between characters that filled in gaps and tied the show together in a more cohesive manner.
Conboy also went way over budget, and left the show after a year-and-a-half. He was replaced by former soap actress-turned director Ellen Wheeler, and she continued his innovative approach, but tempered it with mission to reduce the budget of the show. Under Wheeler the creative renaissance of Guiding Light reached even higher peaks, and as the show winds down, it's as good as it's ever been. Guiding Light is going out with a several-months-long run of the best episodes in its long history.

In February 2008 Wheeler(right), taking advantage of the home studio for the show being moved (which required new sets to be built), revamped the production style and began shooting much of Guiding Light with lightweight hand held digital cameras, and much of that on location in a New Jersey town that they'd chosen to stand in for the fictional "Springfield." Suddenly the show looked like an independent film–a really good independent film. The new sets were spectacular, and the location footage was unlike anything on daytime television.
And the ratings, already low, dropped.
Part of it is due to the changing times. Part of it is due to unbridled hostility toward Guiding Light by most of the soap opera press (yes, Virginia, there is a soap opera press). The editors of Soap Opera Weekly and Soap Opera Digest, the two top magazines devoted to soaps, were merciless in their attacks on the new style of the show. They dubbed it "shaky cam" and complained that the actors and actresses looked too real–not glamorous enough.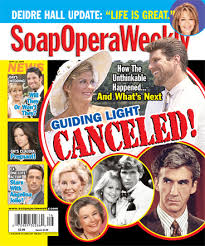 Let me note here that the soap mags have always struck me as anti-Guiding Light. My theory is that most of the editors and writers got interested in soaps during the early-1980s General Hospital fad, and as such always bore a grudge against the show that aired opposite "their" show on another network. Reading the soap press, I always felt like a Yankees fan reading the sports section from a Boston newspaper.
However, that is not what killed Guiding Light. It wasn't bad press, the Internet, the fact that CBS affiliates in key cities shifted the show to 10 AM so they could put Dr. Phil on at 3 PM (yet another reason to hate Dr. Phil) or the rise of video games that killed the show.
O.J. Simpson did it.
In the mid-90s, the O.J. Simpson trial was on all three broadcast networks all day long for months. Soaps were pre-empted for so long that most of them suspended production. There was an audience for the trial. People were obsessed, glued to their TVs. And during this time, the core audience of soaps, which in the 1980s numbered in the tens of millions, learned how to live without their "stories." The habit was broken.
When people had to stop watching their soaps because of the O.J. trial, most of them never came back. Millions just learned to get by without watching. People couldn't remember the storylines. Fans of "The Young and the Restless" thought O.J. had killed Nicki Newman. It was too long for the soaps to go off the air for them to sustain an audience. For decades soap operas never dared to go on hiatus or take summer vacations. Suddenly, most soaps were essentially off the air for months, and the audience never came back.
Ratings after O.J. were about a third of what they'd been at the peak of the soaps in the 1980s. And they've continued to drop since then. That's why matters of budgets became so important. Wheeler's innovations may have bought Guiding Light an extra year on CBS, but the writing was on the wall. Why spend money producing a well-written drama with a large cast when you can crank out a talk show for a tiny fraction of the money and draw pretty much the same ratings?
I'd love to see the show continue, especially now. The last few months of Guiding Light have been good enough to be mentioned among the greatest dramas in television history. Since the demise of the show was announced, they've pulled out all the stops. They seem to be accelerating to an unforgettable finale.
I can't understand why no cable channel, or even My Network TV, haven't swooped in and picked up the show. My Network has only one night of original programming scheduled this fall–Friday Night Smackdown!–and they could probably pick up the rights to new episodes of Guiding Light for less than they're paying for reruns of "Law And Order." They could put the show on five hours a week, over four nights, and syndicate it to stations in the US that still want the show, and overseas, where Guiding Light has been on in prime time for years. Even if it only drew the audience that it did on CBS, it'd bring in more viewers than most of what's on My Network now. My guess is that it'd thrive at night.
But that will probably remain my guess. As I write this, no last-minute call has come to save the show. Some of the cast members already have deals to jump to other soaps–soap producers always tried to raid the cast of Guiding Light–and the sets will likely be demolished soon. The cast has already had their wrap party.
So we have three weeks left to say goodbye to an old friend. I'm sure that a lot of other soaps are going to be following in the coming months. The nature of daytime TV has moved beyond the classic soap opera model. It's sad, but a fact of life. Nothng lasts forever.
Art Walking
Another wonderful Art Walk took place in Charleston last night. I didn't get to as many places as usual because for the first time I was a participant. I had a couple of pieces in the Dog Days show, put on by Marshhouse arts at The Good News Mountaineer Garage Gallery. I did get to stop in at The Purple Moon and the RE: Premier show at Callum McJunkin Gallery. Here's a quickie photo essay.
Purple Moonage Daydream
Cool new work by Sharon Lyn Stackpole
Karen catches me sneaking up behind Tofujitsu
The work of the late William Goebel, on display all this month
The Purple Moon has a new room upstairs, with vintage art. This piece by Curtis Jere is from 1965
Also in the new room, a 1974 piece by Greg Copeland
RE: Premier at Callen McJunkin Gallery
This is a great exhibit, but for some reason, it made me hungry. Check out the munchies, inspired by some of the works on display.
Dog Days
Since I'm working on a 120 Second Art Show video for this show (of which I was honored to be part) I'm just posting pictures of the people involved in the show here.
Amy Williams and Rob Hrezo "Necking" a live knitting installation that will take place at various venues through October
The Good News Mountaineer Garage Gallery was packed for most of the night
The amazing Joe Bolyard
Writer Brian J. hatcher and artist Gracie Welch
Artist Keith Allen
Curator Chip Tantlinger snaps a picture of yours truly snapping a picture of Chip Tantlinger
Melanie Larch and Rob Cleland enjoying the holy hell out of the art
More of the steady crowd
Even more of the crowd
The PopCulteer's kid sister, Diana, looks at some work by a guy with a funny name
Next Week In PopCult
Keep checking back at The Gazette's best-hidden blog, as we bring you Sunday Evening Videos, Monday Morning Art, Radio Free Charleston episode 79, and the delayed debut of "Cool Comic Of The Week." I had planned to start the cool comic this week, but I didn't have time to read it.